If you're like most consumers, then your vehicle is a huge investment relative to your income. Similarly, the investment repair shops must make to become and stay certified is very substantial. Having the proper equipment, internal infrastructure, and up-to-date training for technicians can cost certified repair shops tens or even hundreds of thousands of dollars, but what this investment should be saying to the consumer is that your safety is our number one priority.
Choosing a certified collision repair facility assures that the repair shop is adhering to the strict standards set in place by each manufacturer, and that they will perform safe, complete and quality repairs. According to the California Bureau of Automotive Repair, 60 percent of reinspected vehicles were found to have mistakes. Mistakes like this made by body shops that contradict industry standards are putting an alarming rate of unsuspecting people in potentially life-threatening situations. In today's fast-changing automotive industry selecting a certified repair shop like PUR Collision Center is more critical than ever.

Our alliance with the Assured Performance Network include the largest Automotive Manufacturers, Suppliers, Paint Manufacturers, Insurance Companies, and more. Assured Performance has Certified over 3,000 collision repair business across North America. These collision repair facilities have the right tools, training, and equipment to offer their customers a Certified Repair and complete repair documentation.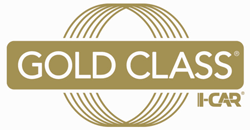 When your car has been in a collision, getting it repaired properly is critical for your family's safety and your peace of mind. But how do you know if a shop has the up-to-date knowledge to repair your vehicle safely?
The Gold Class designation lets you know a collision repair shop has trained technicians who know how to repair your vehicle properly. Only 20% of collision repair shops currently complete the training requirements to meet the Gold Class standard.